Spring Fox Frolic V & VI
Valley Center, CA April 21 & 22, 2012
Trial Results
The Bates Nut Farm was once again host to one of the best Southern California JRT trials this April. Forget-Me-Not Jack Russell Terriers was there, along with many others to enjoy this beautiful setting and renew great friendships.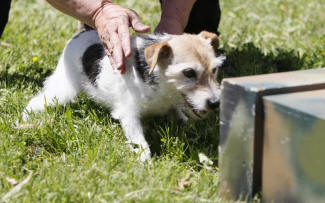 Pebbles, shown here winning her GTG reserve championship,
is "still crazy after all these years", at nearly 15!

Forget-Me-Not Terriers, Lynn Hawley, Emmett, ID
Contact Us