Welcome to Forget-Me-Not Jack Russell Terriers.
We're happy that you're visiting, and please let us know if you need any help.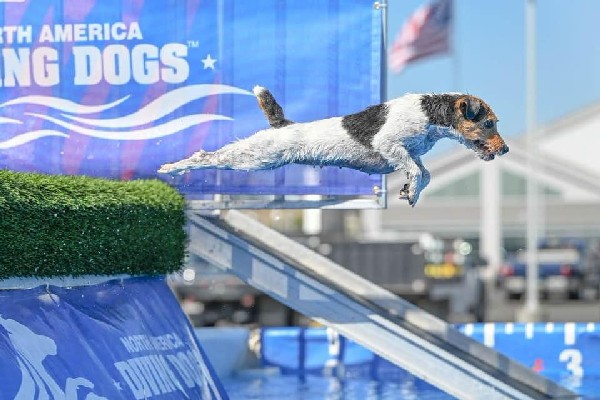 Forget-Me-Not Kenai displaying the athleticism of the Jack Russell Terrier
in a Dock Diving event!

Forget-Me-Not NEWS
Recent Additions to this site
Announcement
Date Added
We have a new rising star in the Forget-Me-Not Kennel Club! Check out FMN Ever Redi, and keep an eye out for more exciting news as this little guy becomes a major part of our program.
July 7, 2022

We had a great time at the inaugural 2022 Treasure Valley GEMboree JRT Trial! Thanks to all who came to the trial, as well as those who volunteered. Your participation made this trial a success. See you all next year!!

Also see the TriState Jack Russell Club website for more information.

July 7, 2022
We have a new litter of 5 male puppies by Shingle Oak Epic and Forget-Me-Not Tok. Check out the pictures on our Litters page.
March 4, 2022

2022 Treasure Valley GEMboree JRT Trial

The Tri-State JRT Club trial is set to go for 2022! This coming year, we will be in a new location, more centrally located for many surounding states. See the trial flyer below, and come check out the new digs. Trial premium available here.

Date: June 11 & 12, 2022
Location: Payette County Fairgrounds, New Plymouth, Idaho
Address: 310 East Blvd, New Plymouth, ID 83655

For more information, contact Lynn Hawley.

Mark your calendars now for Fun, Food, and Raffles! New location, New date, Come check it out!!

March 4, 2022
Scroll down to see the new "Introduction to Field Work with your Jack Russell Terrier," produced by the JRTCA.
August 28, 2021
Please browse the website to see more amazing Jack Russell Terriers,
keep up to date on upcoming litters, trial news, and puppies.
This is a great introduction to Field Work with your Jack Russell Terrier, presented by the Jack Russell Terrier Club of America (JRTCA).
---
The JRTs bred at Forget-Me-Not have a unique personality, making them truly a joy to have in your home.

See more of these remarkable dogs on the Puppy Page, and please take a look at all of the Terriers at Forget-Me-Not JRTs.
This may be the perfect time to consider joining the Jack Russell Terrier community; visit the TriState Jack Russell Terrier Club and sign up! We would love to meet you and let your terriers come play with our terriers.
You can start here at ForgetMeNotJRT.com, browse the site, and feel free to contact Lynn with any questions!
Forget-Me-Not Jack Russell Terriers is located in Emmett, Idaho, in the beautiful Northwest US. An active JRT breeder, Forget-Me-Not has classic foundation sires and bitches, and several litters of puppies offered for sale each year. In addition to breeding, Forget-Me-Not also offers boarding, not just for the JRT but other breeds as well. Browse this site at your leisure, and please inquire about anything of interest through the contact information provided. Thanks.