Welcome to Forget-Me-Not Jack Russell Terriers.
We're happy that you're visiting, and please let us know if you need any help.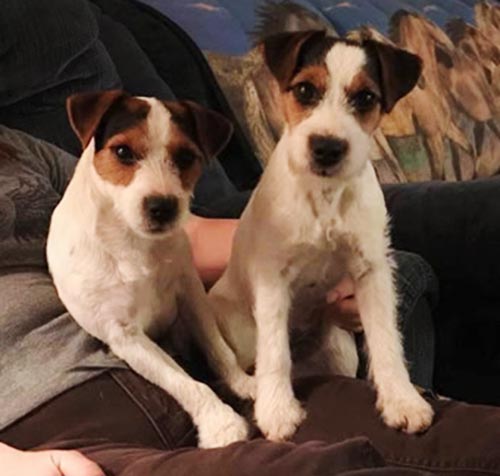 Forget-Me-Not Timber and Diamond Gates Carbon

Here are two Forget-Me-Not puppies that epitomize the JRT breeding at Forget-Me-Not Kennels.
Timber is by Forget-Me-Not McKinley and out of Forget-Me-Not Juneau, while Carbon is by Forget-Me-Not Pedey and out of Diamond Gates Design. Browse the website to see more amazing Jack Russell Terriers at Forget-Me-Not JRT Kennels!
---
The JRTs bred at Forget-Me-Not have a unique personality, making them truly a joy to have in your home.

See more of these remarkable dogs on the Puppy Page, and please take a look at all of the Terriers at Forget-Me-Not JRTs.
This may be the perfect time to join the Jack Russell Terrier community.
You can start here at ForgetMeNotJRT.com, browse the site, and feel free to contact Lynn with any questions!
Forget-Me-Not Jack Russell Terriers is located in Emmett, Idaho, in the beautiful Northwest US. An active JRT breeder, Forget-Me-Not has classic foundation sires and bitches, and several litters of puppies offered for sale each year. In addition to breeding, Forget-Me-Not also offers boarding, not just for the JRT but other breeds as well. Browse this site at your leisure, and please inquire about anything of interest through the contact information provided. Thanks.
Recent Additions to this site
Announcement
Date Added
The Rainier and BattleBorn trial results are on the website under Trials.
Sept 21, 2017
Forget-Me-Not just returned from our first-ever trial in Norfolk, NE. The Forget-Me-Not terriers continue to do well in competition, check the results here, and check out all of the trial history here.
Hank is our newest addition to the program at Forget-Me-Not Terriers. He comes with strong lines to Pebbles of Forget-Me-Not, the original foundation bitch of Forget-Me-Not!
June 28, 2017
Pedey/Desi puppies are now available, and we are accepting deposits. Check them out on the Available page.
June 7, 2017